History of Robots – 1950's Robert Robot Toy
Robert the Robot  was the first plastic toy robot made in the United States, and the first toy robot to become an American "super star". It was the subject of songs, a Hollywood film actor, and was quickly imitated by rival toy makers. It also preceded the industrial robotics boom by several years, capturing people's imagination long before we truly understood what robots could do.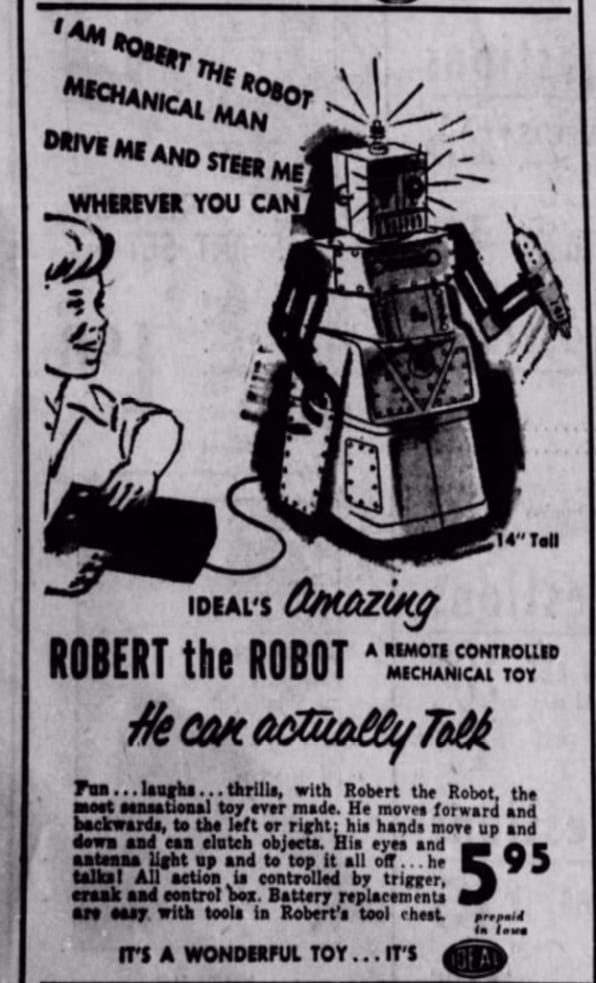 Made of Plastic
Ideal Toy Company used plastic injection molding — a process that itself rose to prominence during the war. Plastic is cheaper than tin or cast iron, and easy to make, instead of rely on importing toys from Japan.
"It was really the beginning of the plastic era."
Using the wired remote make the robot speak ("I am Robert Robot Toy, mechanical man. Drive me and steer me, wherever you can"), while a battery inside Robert's head allowed his eyes to light up. The cable-driven remote control was innovative, using a hand crank for movement and a trigger for rotation.
Future Ahead
Robert may have served a higher purpose, helping to spark our fascination with new technology. The 1950s robot obsession wasn't only prompted by sci-fi, but by actual automation in products like washing machines, washer-dryers, electric ranges, and vehicle transmissions.
"A robot toy for kids to play with, it was under their control automatically"

"That was a prospective of our future :  we were going toward more automation and less work."
NEXT:  Tomy Omnibot series inspire robot generation of today and MiBro kid's remote robot toy