Draw and Program with Artie 3000 toy robot for kids!
Say hello to Artie 3000, this toy robot is a valid and easy alternative to start exploring robotics. It comes with setup instruction, 4 markers, marker aligner and 3 activity sheets. It requires four AA batteries and a computer or tablet to run the coding interface.
Watch Artie 3000 in action 👏 👏 👏 👏
Insert the marker in a compartment on top of his head and add a piece of paper on surface. Make sure you tape the paper on the corners so it doesn't slide when Artie 3000 runs.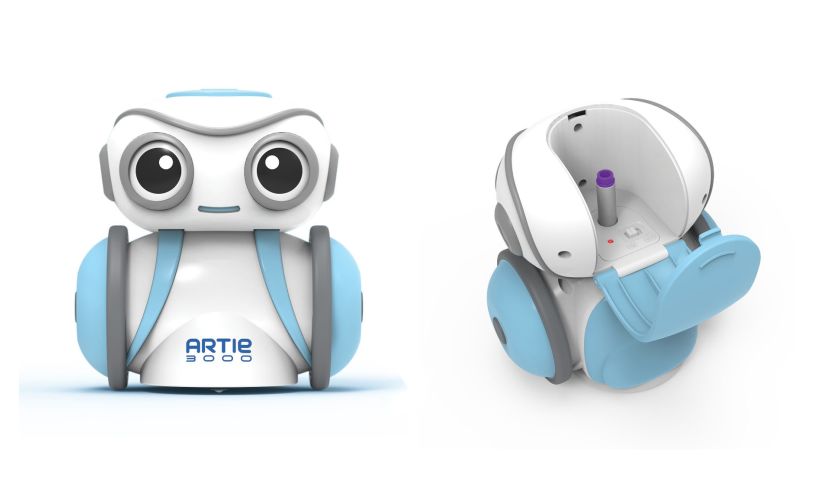 Programming
The easy-to-use drag and drop programming can be used on a Mac, PC, or tablet. the software include a "simulator" that virtually shows the next move of your robot. It is very helpful deciding how to adjust your drawing.
Wifi
Power on Artie, and it will create a wifi hotspot, once connected,  access with your device to local.codewithartie.com
You can connect to Artie with your iPad/Android/PC to access to the coding interface.  In order to do the letters and numbers you will need to upload additional files ( available on Educational Insight website )

The WiFi-enabled drawing robot comes with 4 modes of play: pre-programmed shapes, games, art for coloring, and freeform coding.
Buy Artie 3000 here 😉 :
Age recommended : 7+
Check also : Low price robot for Kids? Check Boxer and Novie robots! and 5 cheaper alternatives to DJI Robomaster S1