Find out the best robot gifts for kids – Christmas 2021! 🎅🎄
Christmas 2021 is near and a great choice is to grab a robotic toys before is too late! Robot toys are fun and smart, plus your kids can learn something!
Find out the best one with our help :  Here is the list of the Top 5 Best robots to buy this Christmas🎅!
We are here to help you to find the best robot for your home, for your kids or your partner ! It's always better to be prepared with the perfect gift, instead of rushing to the last day :).
5th – TOP for the fun,  Boxer Robot!
Boxer Robot is a playful friend and also is an interactive remote control toy robot, it's packed with lots of fun features and the cutest personality!
It will laughs, shouts, sings, dances, performs stunts and farts… really loudly!
Boxer Robot is similar to Anki Cozmo robot with a more playful and interactive personality!
Games Included:
soccer
actions
bowling
go kart
Buy it from Amazon :
4th Place : ROYBI Robot – learn and play

ROYBI Robot is a robot with a big eyes, and two buttons for your kids to play! This robot is interactive:  with its camera will detect when your kid is near and it will try to start a conversation, its purpose is to teach and play!
Scheduled lessons – It provides a 1-on-1  interactive activities  for children. The robot will polite remind your kid  "time for lesson!".You can choose the time via app. Daily lessons contains  ABCs, biology, chemistry, geography, literature, mathematics, astronomy, and more.
Video-talk – An interesting functionality! the robot will provide a video streaming ( like a security camera) and two-way audio call from the app and the to speak with your kid.
Programs library – Hundreds of daily educational lessons, songs & stories to choose from for next scheduled lesson!
Stats – The status with the completation rate of the lessons
3rd Place : Interesting & smart, ClicBot!
ClicBot robot can be assembled and programmed in different configurations to perform different tasks. the robot works as minimal  as its  "head"  module for face recognition or remote camera and can be expanded to a full functional quadruped robots or a racing car.
Can be found here :
2nd Place : Watch robot – TOBI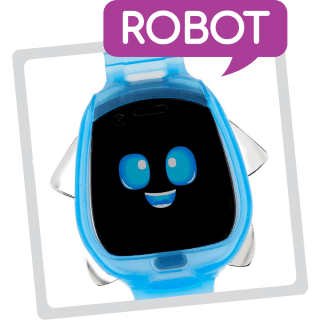 Tobi Robot Smartwatch is a toy for kids that is surprising interesting,! A small robot in your wrist  : easy to carry with you, it can pop-up small legs and arms and speak with your kids, it has two built in cameras and a lot of games!
Smartwatch+Robotics = Tobi
Tobi uses a lot of technology and functionalities from smartwatch and robotics : it has pedometers , calories burners, selfie camera, wifi messaging , voice assistants and virtual reality games using the cameras.
Buy your Tobi on Amazon :
1st – Artie MAX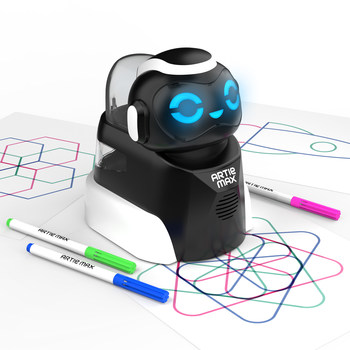 Artie MAX :  a robot that stand out as between STEM robots. Artie MAX is the successor of the drawing robot Artie 3000 and bring several interesting updates to the previous model .
The robot resemble a cute Darth Vader, it catches the attention of the kids ! Its capable of drawing in 3 different colors with 3 different pens from the compartment in its back.
Artie Max  stand out from its programmable capabilities :   it can be coded easily with a drag and drop language it ( BLOCKY )  but also with real programming languages , like Python and Javascript and even C++ for people who want to get really technical.
It can use seven on board sounds, and you can change the colour of each segment of it's eye and mouth, so it can be quite fun and expressive .
The robot doesn't require internet connection as it will create it's own WIFI connectivity ( similar to an hotspot )  where you can connect from a computer and start your programming/drawing session.
Find it here :
Check also : TOP 5 Alternatives to Vector Robot  & 10 robotic toys for smart kids of 2020!