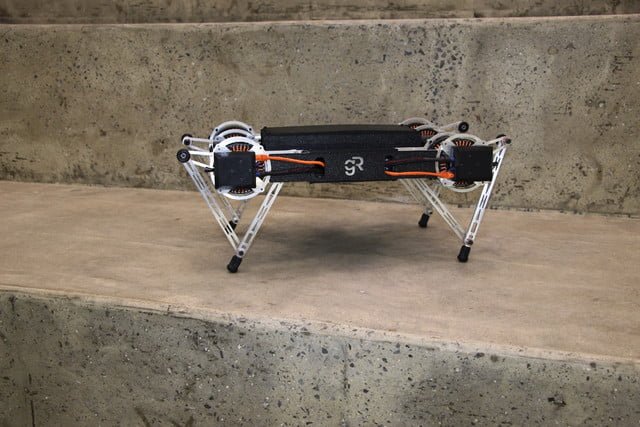 Jump Robot ! Ghost Minitaur from GhostRobotics is a jumping quadruped robot. Its high torque motors, motor controllers, and specialized leg design allow this machine run and jump over difficult terrain, climb fences and stairs, and even open doors.
It has sensor let the robot see and feel the ground through the motors and adapt faster than the blink of an eye.
The design looks is very similar to another jumping robot :  MIT's Mini Cheetah
There is more jumping robots in the list:
GhostRobotics Visio60 is a peculiar  robot that has no "visual" sensors. It is able to walk trought a series of algorithms that stabilize it's position automatically.
Vision 60 legged robot managing unstructured terrain without vision or force sensors in its legs. Using only high-transparency actuators and 2kHz algorithmic stability control.
Spot On Site
We can see already Boston Dynamics's Spot at work. The company has announced a new leasing program which is aimed at construction, entertainment, and other automation-friendly industries.
In the video we can see some insight of Spot functionalities, behaviours , movements with rough terrains and how the remote control works.
NEXT :  Download SpotMicro is an open source robotic dog and build your robot!