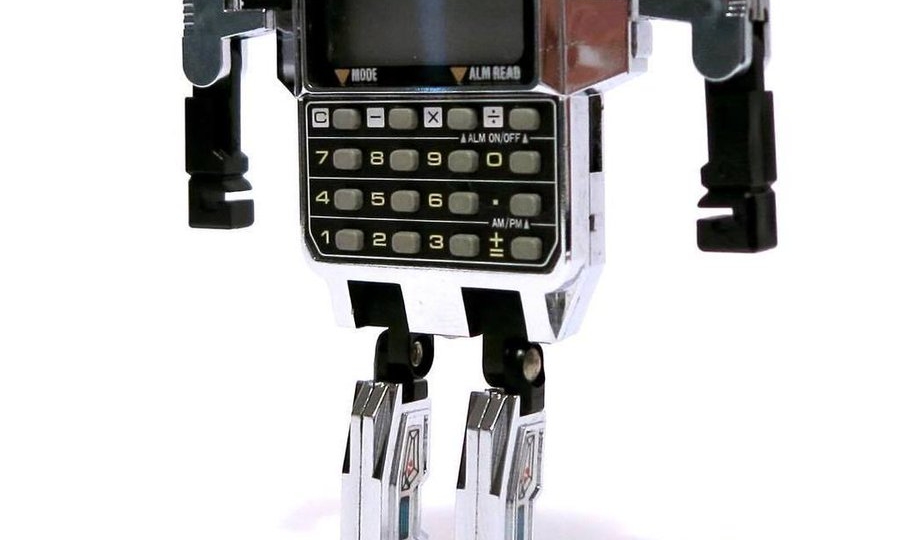 Let's learn : Robotic watches !
Robotic watches are toy for kids and adult designed to be played ( and collected) and worn at the wrist!  We already have a modern example of robotic smartwatch Tobi  and today we are going to leran a bit about the history of this toy
The digital-watch bloom
Takara first introduced their Choro-Q line in 1978 which were small cars with pull back motors. This line extended to Takaras Microchange line in 1983 with such releases as MC-04 Porsche 944 (Cliffjumer) and VW Bug (Bumblebee) though these cars did not have a motor but could transform into robots.
Takara's Robot Watch
A calculator watch which transforms into a robot toy. This was also released in the Kronoform line in Transformers styled packaging as "Kaltor". This came in three colour variations – chrome, gold or black.

Kronoform was the outside Japan release of their brand Microchange which was a line of realistic items that changed into robots. One of the original toy lines Hasbro used to create the Transformers brand in 84.
The challenge of this toy is to be durable, be able to transform everywere, and showing the time while playing or stay in the wrist. Some of those toy also were water resistant as the kids would also submerge in water while playing!
The presence of this toys nowday on various market website affirms that this toy were neverless durable and beloved.
SKMEI's robot watch
The watchmaker branch SKMEI has recently put in production its own version of the toy very close to the original shape but with a very simplified mechanism and features . Images Below