MarsCat is first robotic kitten of 2020
MarsCat is prototype robotic cat developed by Elephant Robotics, aiming to be a home robot to entertain you just like a real cat. The robot is similar to OpenCat and Nybble but with a smooth plastic external shell, camera addon and microphone to recognize your face and vocal commands.
Features:
MarsCat comes in white, gray, ginger, and black, and it's outfitted with six capacitive touch sensors, a 5MP camera in its nose to help it "see," and is powered by a Raspberry Pi 3. Battery life last two to three hours with "constant interactions" and up to five hours in standby.
MarsCat  robot walks, runs, sleeps, sits, stretches, bites nails, kneads and even buries litter although she won't produce any waste.

It is fully responsive and has sensitive interactions. It can feel your touch, hear your voice, see your face and play with toys. Every MarsCat is unique from its eyes, body to personality, its personality will change according to the way you pet it. With powerful quad-core Raspberry PI, you can also program it easily and give it endless possibilities.

MarsCat can also be an ideal choice for education, research and commerce.

It may express different emotions by different meows or gestures. Sometimes it may do some amazing things that surprise you and make your day! – Elephant Robotics
Check the MarsCat Kickstarter Campaign
The company says that the robot will be able to interact with objects or people nearby or even play with real cats.
Similar OpenSource projects:
Nybble is a DIY robotic kitten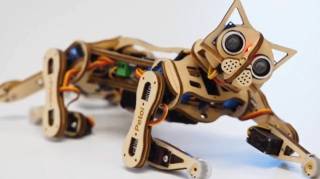 OpenCat robotic kitten that you can build