The BEST Robot of 2022 – XMAS Gift Guide! 🎄🎅🎁
Xmas time is near and a great choice is to grab a robotic toys before is too late! Robot toys are fun and smart, plus your kids can learn something!
Of course and here we are to help you to choose the best one! Here is the list of the Top 5 Best robots to buy this Christmas🎅!
We are here to help you to find the best robot for your home, for your kids or your partner ! It's always better to be prepared with the perfect gift, instead of rushing to the last day :).
5th position – Novie Robot ! 
Novie, an interactive smart robot that can follow your commands and learn cool tricks!
From the moment you unbox Novie, the robot is ready to play. the robot is controlled though hand gestures and will learn from your gesture how to do fun tricks like Spinout, Wheelie, Wacko Walk, Fartnado and more.
This is a really cute little robot that is very similar to the "Boxer" robot, which toy fans may be familiar with. Essentially, Novie is Boxer's lively little brother.
TIPS:
Once you start to teach him , he can make some impressive moves, leaping forward on two wheels, for example
It's more simple to use than Boxer , but the same fun!
Low price robot for kid
4th position – Tobi Robot Smartwatch
Tobi is a toy for kids that is surprising interesting,! A small robot in your wrist  : easy to carry with you, it can pop-up small legs and arms and speak with your kids, it has two built in cameras and a lot of games!
Tobi uses a lot of technology and functionalities from smartwatch and robotics : it has pedometers , calories burners, selfie camera, wifi messaging , voice assistants and virtual reality games using the cameras.
The face of the robot remember social robot like Vector and Cozmo , similar to those two, this robot once detached from the strap can be placed in a desk to be your "small assistant".
Tobi Robot Smartwatch has small metal moving arms and legs , fun sound effects, and 100+ expressions. The battery can last up to 5 days depending on the usage
Buy your Tobi on Amazon :

🥉 3rd position – Miko 3🥉
Miko3  by Miko.AI !  We were surprised by the first model Miko2 capabilities to connect parent and kids via remote communication and play
Here is what the new Miko3 has improved :
Deep learning AI enables Miko 3 to understand and respond to a kid's world, instilling feelings of companionship and social connection to help build confidence.
Lot of expressivity with a huge animated touchscreen screen

Wide-angle HD camera and hi-tech sensors to map distance and edges and move.
Unlimited access to telepresence to stay in touch with your child anytime, anywhere through video calling via Miko App

Data encryption and strict privacy norms, the child's data remains secure.
You can buy Miko3 here on Amazon :
🥈 2nd Position – Artie MAX🥈

Here is a Artie MAX :  a robot that stand out as between STEM robots. Artie MAX is the successor of the drawing robot Artie 3000 and bring several interesting updates to the previous model .
The robot resemble a cute Darth Vader, it catches the attention of the kids ! Its capable of drawing in 3 different colors with 3 different pens from the compartment in its back.
Artie Max  stand out from its programmable capabilities :   it can be coded easily with a drag and drop language it ( BLOCKY )  but also with real programming languages , like Python and Javascript and even C++ for people who want to get really technical.
It can use seven on board sounds, and you can change the colour of each segment of it's eye and mouth, so it can be quite fun and expressive .
The robot doesn't require internet connection as it will create it's own WIFI connectivity ( similar to an hotspot )  where you can connect from a computer and start your programming/drawing session.
Find it here :
🏆 1St position – Petoi Bittle 🏆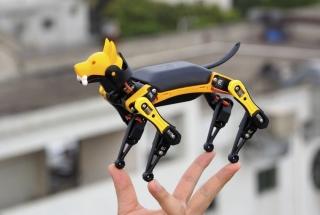 Petoi launched their new robot dog "Bittle":  this new robot came from the previous worldwide success of Nybble robotic kitten & the experience from the OpenCat Project.
This lightweight quadruped robots can walk in your home ( or your desk), be your watchdog , be your friend or you can use as robotic platform to run your code and make it move like Spot or MIT's Cheetah robots.
It looks like a mini version of the Boston Dynamic's Spot  with the yellow/black colour pattern and way cuter!
Bittle can be "modded" and expanded , using a 3D printer you can change its design and print a different head for example, make longer legs or create an adaptor to add your own circuit board.  It also can use external sensors compatible with Arduino
List of official modules:
The intelligent camera module integrates multiple vision recognition algorithms running on its ESP32 dual-core processor. It can return recognised human body, objects, and symbols through serial/I2C/WiFi at a rate of 25fps or 50fps.
Biboard v0 : an  ESP32 based development board with native Bluetooth and WiFi connectivity ,
The Bluetooth dongle is compatible with Windows, macOS, and Android. It can also work on IOS with some auxiliary software. It can be used for uploading Arduino sketch or communicating with the NyBoard. The WiFi module can host a simple WebUI and communicate with the NyBoard.
Grab your Robot now on Amazon!
Have a good xmas !!! 🎄🎅🎁