The BEST Robot of 2023 – XMAS Gift Guide! 🎄🎅🎁
Xmas time is near and a great choice is to grab a robotic toys before is too late! Robot toys are fun and smart, plus your kids can learn something!
Of course and here we are to help you to choose the best one! Here is the list of the Top 5 Best robots to buy this Christmas🎅!
We are here to help you to find the best robot for your home, for your kids or your partner ! It's always better to be prepared with the perfect gift, instead of rushing to the last day :).
🥉 3rd position – Petoi Bittle🥉
Petoi launched their new robot dog "Bittle":  this new robot came from the previous worldwide success of Nybble robotic kitten & the experience from the OpenCat Project.
This lightweight quadruped robots can walk in your home ( or your desk), be your watchdog , be your friend or you can use as robotic platform to run your code and make it move like Spot or MIT's Cheetah robots.
It looks like a mini version of the Boston Dynamic's Spot  with the yellow/black colour pattern and way cuter!
Bittle can be "modded" and expanded , using a 3D printer you can change its design and print a different head for example, make longer legs or create an adaptor to add your own circuit board.  It also can use external sensors compatible with Arduino
List of official modules:
The intelligent camera module integrates multiple vision recognition algorithms running on its ESP32 dual-core processor. It can return recognised human body, objects, and symbols through serial/I2C/WiFi at a rate of 25fps or 50fps.
Biboard v0 : an  ESP32 based development board with native Bluetooth and WiFi connectivity ,
The Bluetooth dongle is compatible with Windows, macOS, and Android. It can also work on IOS with some auxiliary software. It can be used for uploading Arduino sketch or communicating with the NyBoard. The WiFi module can host a simple WebUI and communicate with the NyBoard.
Grab your Robot now on Amazon!
🥈  2nd position – Moxie🥈
Moxie offers play-based conversational learning that helps kids practice in-person social interaction at home and offers as companion for your kid and to help with some homework. His features , movement and expression seems really outstanding from the video below:

The robot is avaliable to work only in US , and require a montly subscription to be updated
you can read more about subscription here 
🥇 1 st Place – Eilik 🥇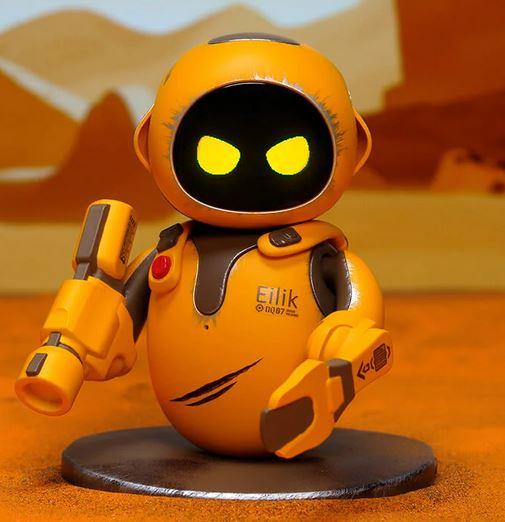 Eilik robot from EnergizeLab is companion robotic toy with a face similar to Vector and Cozmo and Loona Robot . Eilik best place is in your desk and will entertain you or your kids during the day! The robot cost around 159$ and comes in blue / pink / orange color ( the new DG version ) . Eilik is the true winner of our XMAS GIFT SEASON 2023 in terms of price and features!

Pros:
Low Price
Colorful and robust
Great toy for kids
Animations are well made!
Many included fun games!
Cons:
long updates ( couple of hours)
the internal battery only lasts a couple of hours 
motors may be noisy.
may be noisy for work-related environments
not interactive with SmartHome environment
Repetitive behaviour
Find your Eilik on Amazon below :