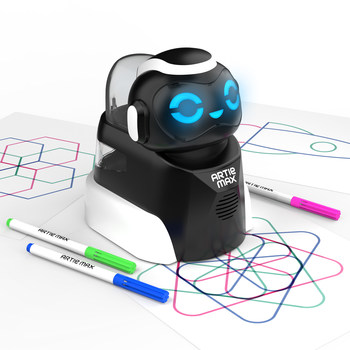 learn coding? Here is the perfect robot for you !
Here is a Artie MAX :  a robot that stand out as between STEM robots. Artie MAX is the successor of the drawing robot Artie 3000 and bring several interesting updates to the previous model .

The robot resemble a cute Darth Vader, it catches the attention of the kids ! Its capable of drawing in 3 different colors with 3 different pens from the compartment in its back.
Artie Max  stand out from its programmable capabilities :   it can be coded easily with a drag and drop language it ( BLOCKY )  but also with real programming languages , like Python and Javascript and even C++ for people who want to get really technical.
It can use seven on board sounds, and you can change the colour of each segment of it's eye and mouth, so it can be quite fun and expressive .
The robot doesn't require internet connection as it will create it's own WIFI connectivity ( similar to an hotspot )  where you can connect from a computer and start your programming/drawing session.
Find it here :